Here is an overview of the ÖH sports programme
Bouldering hall Steinblock
Eisengasse 42
6850 Dornbirn
https://steinblock.at/dornbirn/
Every Tuesday from 14:00:
7€ instead of 11,80€ for FHV students (we pay the rest! :))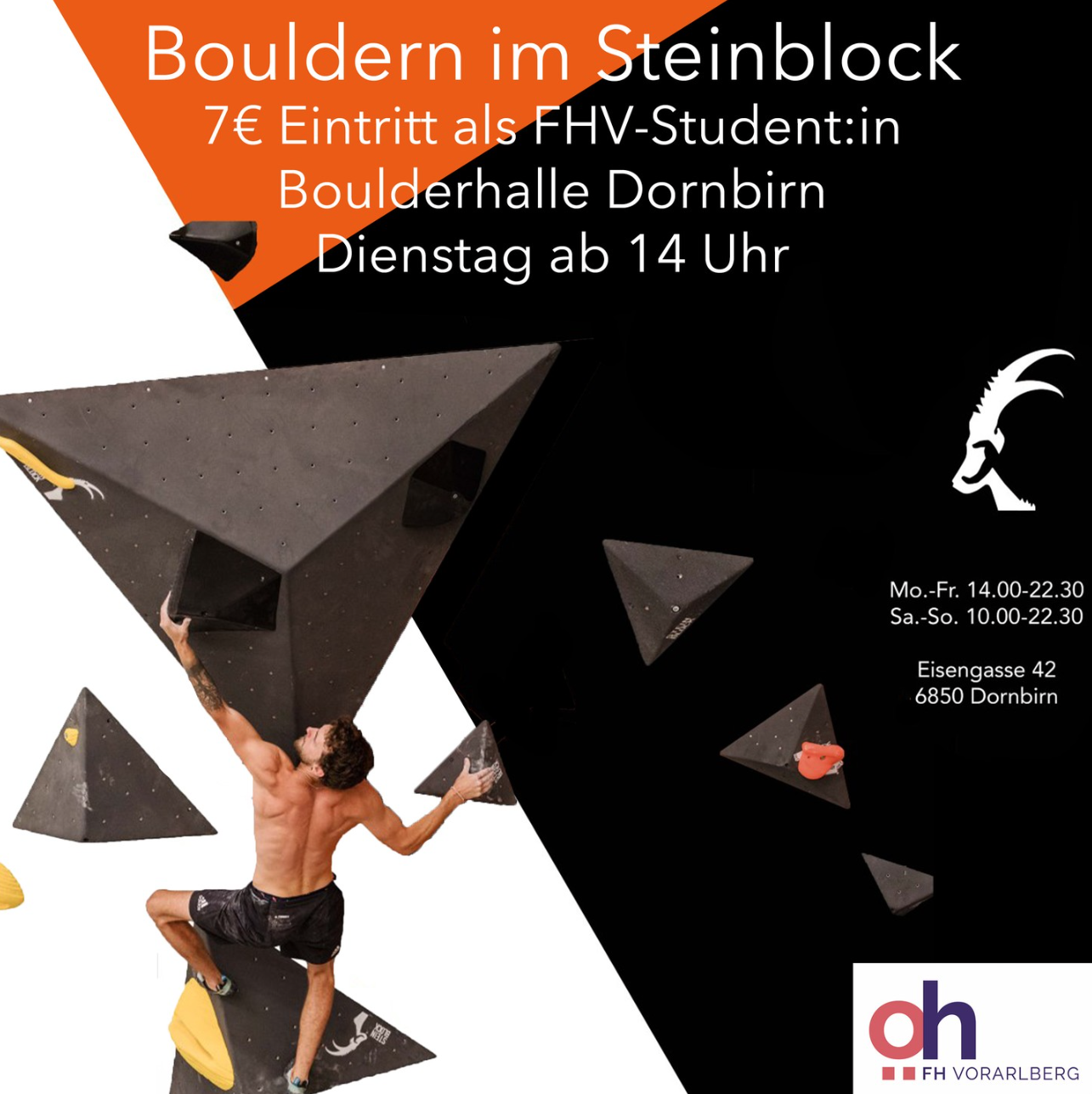 Monday from 20:00 - 22:00
Wednesday from 20:00 - 22:00
The HTL Halle remains closed during school holidays and public holidays in the province of Vorarlberg. The times of the semester holidays do not apply.
Sports hall of the HTL Dornbirn
Höchster Street 73
6850 Dornbirn
Three minutes' walk from Schoren station
Directions
The entrance to the sports halls is at the back entrance and not at the main entrance. The red arrow on the picture marks the entrance to the sports halls.
Telegram group link is in the email or on request

Fitness studio GoodLife Sports
Student discount for FH students at the studios in Dornbirn and Hohenems
1-Month Subscription for 59,90€*
6-month subscription for €219.00*.
12-month subscription for €365/year or €34.90/month*.
* plus activation fee
Exchange students:
no activation fees
3-month subscription for €119.00
4-month subscription for 149,00€
6-month subscription for €219.00
More info at: https://www.goodlife-sports.at/
We from the sports department have an interesting offer for those interested in self-defence!
The "O Sen Kan" in Dornbirn offers a beginners' course in Aikido. Aikido is a Japanese martial art that was only developed at the beginning of this century. It was strongly influenced by samurai sword fighting and jujitsu. techniques. For this reason, Aikido uses unarmed techniques as well as techniques with the Japanese sword (Bokken) and the long stick (Jo). Techniques for disarming a knife attack are also taught.
There is a discount for students of the Vorarlberg University of Applied Sciences. 
You pay for the course 90€ instead of the usual cost of 130€.
Period of the offer:
This offer is valid from October 2022 to February 2023.
Information about the Aikido school, the teacher and the training times can be found on the homepage: www.aikikaidornbirn.at.
Discount on games at Funworld Hard
Attention sports fans!
From Monday, 21.11.2022, students of the FHV can get Hard on games at Funworld on presentation of Campus Card 20%. What can you play? The offer applies to bowling, billiards and laser tag.
Offer not valid on food & beverage.
Period of the offer:
Monday 21.11.1022.
Adinterest:
Funworld Hard
Lustenauer Str. 27
6971 Hard

You can find the opening hours on the official website https://www.funworldhard.at/.
Offer 1 without trainer:in:
A special rate of €16 per hour is charged for the pitch every day from Monday - Friday until 16:00. Means 4 students can use the court for 4 € per student for one hour. Equipment is included.
Offer 2 with trainer:in:
Padel tennis offer for students at the Padelzone in Götzis. Dates are on Tuesdays at 11:30 - 12:30/12:30 - 13:30 / 13:30 - 14:30 and on Saturday at 15:00 -16:00 on these dates is a Minimum of 7 students (max 8 students) required. For 7€ per student. The Appointments must be made by yourself.
https://www.padelzone.at/padeltennis-goetzis